Best Disposable Vape Frunk Bar Flavours For A Truly Refreshing Vape
You can make your stop smoking effort easier by switching to vaping. There are plenty of options for vape devices, too. However, the most ideal for beginners, or those who want to reduce their nicotine consumption (from smoking) is disposable vapes.
It has over been a decade ago when vapes were introduced to the public. From then on, numerous of its innovations have been employed to create a safer and more satisfying vaping experience for its users. Online vape stores likewise abound, but you have to be wary of buying from bogus ones.
One of the trusted and premier online disposable vape and vape kit UK-based stores is FrunkedUp. If you're looking for the best tasting disposable vape pens, you can visit our website. It is the official provider of such delicious and refreshing products.
Frunk Bar Disposable has in fact recently launched its luscious line of fruity-flavoured disposable vapes. These products offer a variety of blends and flavours that are so unique and intense you're guaranteed to have a blast when you puff them. With a bigger tank capacity, you can enjoy up to 800 to 1200 puffs.
Why choose disposable vape pens? For loads of astounding reasons, 5 of them are listed below.
What Are The Benefits Of Disposable Vapes?
It's simple and easy to use them
Aside from having attractive packaging and look, disposables are designed in a basic way. There isn't so much hassle to open and use them. There are people who think that these devices, being disposable, are not as effective. Then again, it is erroneous because they are guaranteed to give you a rich and flavourful vaping experience.
They are very handy and convenient
Disposables are suitable for daily consumption, and with extended battery life, you don't have to bother about charging them. They're easy to carry around and take with you when you go out or travel. You don't even need to wash or clean them, and you can easily discard them when used up.
They are more hygienic and don't leave unpleasant odours
Vaping is safer than smoking, and more hygienic, too. You don't have to worry about causing or leaving behind unpleasant smells when using vapes in public. No concerns about offending other people as well. Puffs are clean with disposable vapes where odours are not left on your hands or clothes.
They are more friendly to the environment
The "environmentally-friendly" label of disposables on its package holds true. These products are made to be eco-friendly and recyclable where factories collect them for recharging and reselling. This helps companies in saving their resources.
They are ideal for beginners
Disposables are good for first tries where you can determine if you really like it or initially use it for practice. They are a cheaper option and can be discreetly used in public.
Now that you know the benefits of using disposable vapes, you'll be more amazed to find out that you can puff them in style and as deliciously as possible because they are available in exciting flavours. Choose from below.
Top 11 Frunk Bar Flavours
1. Twisted Apple Disposable Vape
Enjoy fruity and juicy puffs with a fantastic twist of a flavour where sweet and sour apples are combined. 
See Twisted Apple
2. Energy Burst Disposable Vape
All night long boogying has never been more fun with this flavour. It gives you the boost of ice-cold energy drink.
See Energy Burst
3. Grapefruit Passion Disposable Vape
If you love grapes, this one is for you. Mix that up with an icy cool vaping breeze.
4. Strawberry Nana Disposable Vape
Fruitiness at its best where strawberry and banana flavours are mixed.
See Strawberry Nana
5. Cool Pineapple Disposable Vape
It's the coolest popping vape with this refreshing, juicy pineapple flavour!
See Cool Pineapple
6. Peach On Ice Disposable Vape
This peach and menthol combo is sure to give you an exciting cool kick when you vape.
See Peach On Ice
7. Orange Breezer Disposable Vape
The sweet orange citrus flavour is mixed with a rich menthol tang. You will so love this!
See Orange Breezer
8. Club Cola Disposable Vape
Fizzy goodness that gives you a bursting vape all day long. It's a soda flavour that'll leave you refreshed.
See Club Cola
9. Mint Mania Disposable Vape
The coolest of vapers definitely shouldn't miss this. It's the most exhilarating ever for an all-day puff.
See Mint Mania
10. Iced Mango Disposable Vape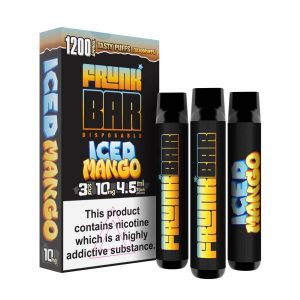 This mango and ice medley is perfect where you'll relish the balance between mango and menthol flavour.
See Iced Mango
11. Watermelon Splash Disposable Vape
It's mild but fruity, and fantastically bursting with sweetness. From the first inhale to the last, you'll pop with its tropical and exotic flavour.
Take your pick from these amazing Top 11 Frunk Bar Flavours. You'll surely have a blast and an invigorating vape in every minute of your puff.